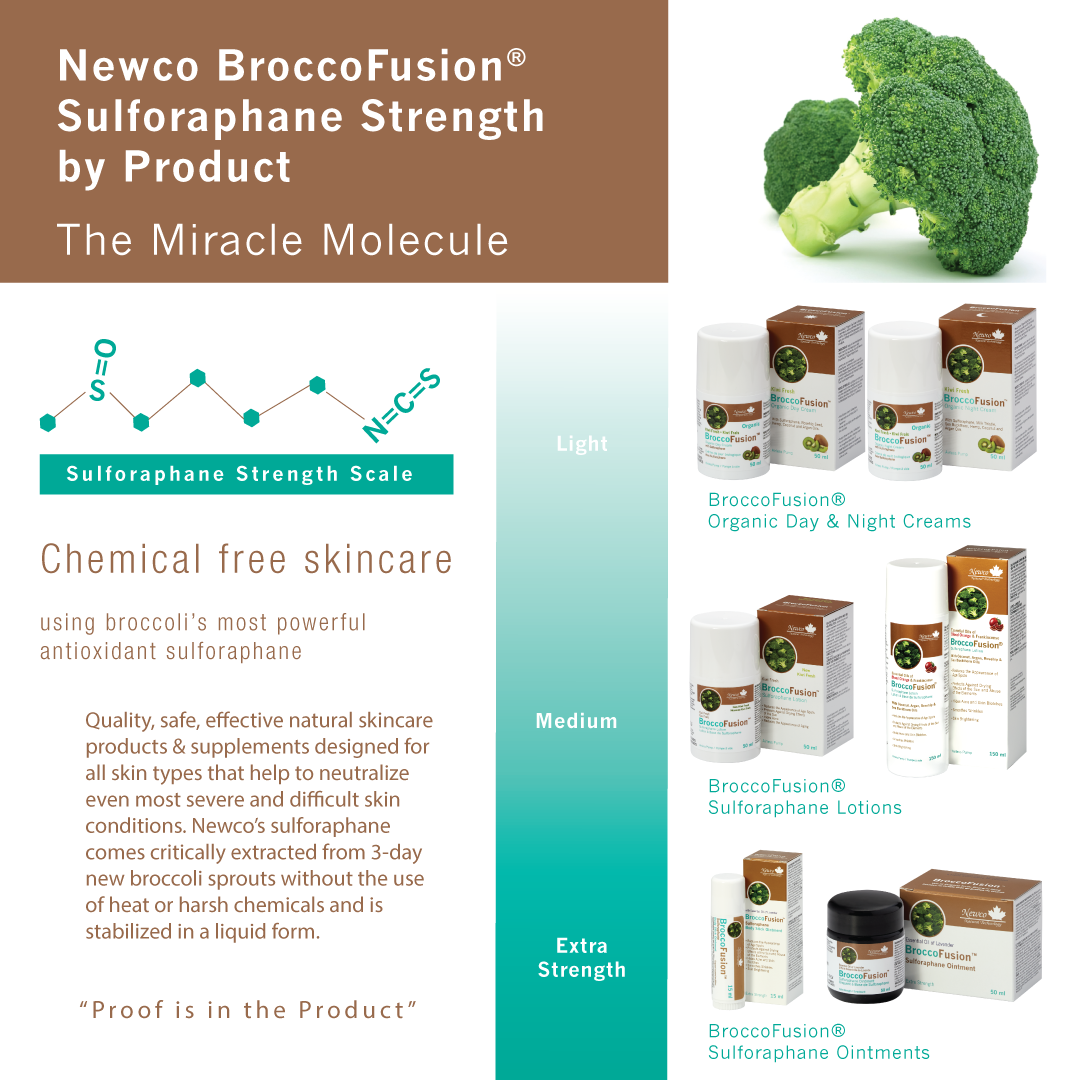 What are the main differences between Newco's BroccoFusion® creams and ointment?
Newco Natural Technology is revolutionizing products using broccoli's most powerful antioxidant, sulforaphane. Since 1996 we have been dedicated to creating quality and safe natural products. The result? The world original sulforaphane product series which includes chemical-free skin care. Newco's sulforaphane comes from broccoli seeds, critically extracted without the use of heat or harsh chemicals and stabilized in a liquid form.
BroccoFusion® Organic Day & Night Creams are moisturizers that contain sulforaphane and luxurious oils, such as hemp, coconut, and argan, to soothe dry skin and help reduce the signs of aging. These creams contain the least amount of sulforaphane in the series, yet include the most hydrating oils and are organic. These creams are available in kiwi scent.
BroccoFusion® Lotions are moisturizers that reduce the appearance of age spots, protect against the drying effects of the sun and abuse of the elements, hide acne and skin blotches, smoothe wrinkles and brighten the skin. They are terrific for combating mild skin issues since they contain a moderate amount of sulforaphane. These lotions are available in lavender, kiwi, and blood orange & frankincense scents.
BroccoFusion® Ointment was featured on the Oprah Winfrey Network, in May 2012 for skin tag removal. This multi-purpose ointment can be used for treating skin various conditions from hyperpigmentation to burns & wounds. It is an extra strength ointment that contains a high amount of sulforaphane, therefore, making it excellent at attacking more severe skin ailments. This ointment is available in lavender scent and also contains a generous amount of tea tree oil for its anti-fungal and anti-bacterial properties.
What exactly is sulforaphane?
Sulforaphane can come from a variety of vegetables including kale, brussels sprouts, and cabbage. Although, highest levels are found in broccoli, specifically broccoli seeds and 3-day new sprouts. It functions very differently than traditional antioxidants, such as vitamins A, C, & E, that neutralize one free radical at a time and are then used up. Sulforaphane stimulates a continuous and long-lasting chain of antioxidant reactions in the body, up to 72 hours after the sulforaphane is no longer present. It is therefore considered an indirect antioxidant, with superior effects.